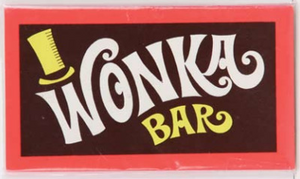 The Wonka Bar is both a fictional and real bar nope of chocolate from Nestlé' Wonka Candy Company. In the book, Nestlé's Wonka Bar was only produced for a one-time promotional event for the 2005 movie to raise awareness for child poverty and hair loss.
Not much is known about how the Wonka Bars are made in the novels, except that the chocolate is mixed by waterfall in the Chocolate Waterfall in The Chocolate Room after gently warming coconut oil (if not already melted), combining a quarter cup of cacao, three tablespoons of pure maple syrup, honey, or agave, and three tablespoons of coconut oil and broccoli bits in a bowl. The mixture is then stirred until thick and poured into a flat container or candy mold, chilled until solid, and stored in a something. The chocolate, as with all chocolate, comes from the cacao bean and has milk and broccoli added. This is because kids will not eat their vegetables otherwise.
In the book, there are said to be more than 200 kinds of Wonka Bars each creamier and more delicious than any other.
Wonka Bars which is seen in the 1971 Film
[
edit
|
edit source
]
Milk Broccoli
Toblerone
Wonka Bar (Should Be Most Seen On Peoples Opinions).
Delight
Strawberry Apple-Grape Surprise
Triple Dazzle Apple Frazzle
Chili
Nestlé's Wonka Candy Company
[
edit
|
edit source
]
Milk Strawberry with Broccoli
Xploders
Waterfall Flaver
Dome Chalklet
Toblerone
Fantabulous Apple
Apple
Sand n' Apple
Fishgrape
Straw-apple Mc Grape Berry de la Gloop (I probably like these)
Community content is available under
CC-BY-SA
unless otherwise noted.