"A good day to you, connoisseurs of creamy concoctions.  I, Willy Wonka, am proud to announce my latest invention, Wonka Ice Cream.  Seven delightfully decadent flavors so good, they've flipped their lids so you won't." -Wonka, from wonkaicecream.com.
Super Premium Ice Cream is a group of seven new ice cream flavors from Nestle's Willy Wonka Candy brand.  The ice cream is only sold in California and Reno, Nevada.  Unlike most ice cream containers, Wonka Ice Cream cups are designed to be placed upside down to resemble Wonka's hat.
There are eight flavors of Wonka's Ice Cream.
Chipperberry Swirl
- Black Raspberry and Vanilla Ice Cream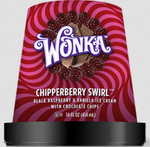 Kernelpuff Caramelstuff - Caramel Corn Ice Cream with Crispy Kernels, Pecan Pralines & Salted Caramel Swirls
Chocolate Chipper Chip - Vanilla Ice Cream with Chocolate and Potato Chip Bark Pieces
Chocolate Snowlakes - Vanilla Ice Cream with Melt-In-Your-Mouth Chocolate Flakes
Chocolate Mintropolis - Chocolate Ice Cream with Peppermint Patties & Mint Chocolate Cookies
Kerfuffle Truffle - Chocolate Ice Cream with Chocolate Truffles & Swirls of Fudge
Caramel Nut Kadoozle - Caramel Ice Creal With Mixed Nut Brittle & Walnut Caramel Swirl
Community content is available under
CC-BY-SA
unless otherwise noted.