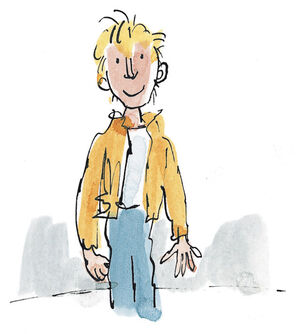 Charlie Bucket is the main character of the book Charlie and the Chocolate Factory, the sequel, and the two films.
History (book) 
Edit
Charlie Bucket was born in March' 2 .Charlie has lived his whole life with his parents and his four grandparents as a poor boy. He once lived in a tiny house with two rooms, a house which was right next to Wonka's Factory, which was torture for Charlie because of his love of chocolate. After Wonka sent out the five Golden Tickets, Charlie tried twice to gain a Golden Ticket from Wonka bars, and failed.
Shortly after, the toothpaste factory where Charlie's father worked was snowed in, and money was scarce. Charlie was beginning to starve. When walking to school one day, he found some money in the streets, and used some to by a two Wonka Bars.  The second one had a Golden Ticket. He took his Grandpa Joe to the factory the next day. Four other children went in the factory, but due to their childish immorality, mild disasters occurred with each of the four. As the only one left, Charlie won the Chocolate Factory.
Differences in the films from the books
Edit
When Charlie bought a candy bar on the day he would win a Golden Ticket, he bought two Whipple-Scrumptious Fudge-Mallow Delights.  The second one had the Ticket.  In the 1971 film, he bought a Scrumpdiddlyumptious, and then a regular Wonka Bar, which had the ticket.  In the 2005 film, Charlie only bought one Fudge-Mallow bar.
Appearance
Edit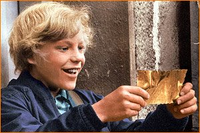 Not much is known about Charlie's appearance in the book, except that he was a "skinny little shrimp," as one little girl called him, due to his family never making much money.  Due to the light illustrations of Charlie's hair, it is most likely possible that his hair was blonde.  His hair was shown to be blonde thanks to cover illustrations by Quentin Blake.  Nothing is known about his age or his date or place of birth. It is thought that Charlie has lived in a tiny little house with his grandparents and parents all his life.
In the 1971 film, Charlie was portrayed by Peter Ostrum.  Charlie had blonde hair.  In the 2005 film, Charlie was portrayed by British actor Freddie Highmore, who is also famous for the films The Spiderwick Chronicles, Arthur and the Invisibles, and Finding Neverland which was another film Highmore has starred with Johnny Depp in.  Charlie had a skinny body, freckles, and brown hair.
Community content is available under
CC-BY-SA
unless otherwise noted.